Details
Milan Rho exhibition centre is connected to Malpensa airport. One way single ticket costs €12,10 (€ 6,30 for children up to 12 years old); ask for the "Rho Fiera special ticket" in order to get this special price.
Malpensa to Milano Rho Fiera
Milan main exhibition centre is located in Rho, just a short run from the city centre; you can reach Rho Fiera from Malpensa airport by taking the Malpensa Express train ending at Milan Centrale and getting off at Milano Porta Garibaldi railway station, about 35 minutes after departure from the airport. Please note that the "Rho Fiera special ticket" is not valid on Malpensa Express trains ending at Milano Cadorna.
As you get off the Malpensa Express train at Milano Porta Garibaldi walk into Milano Porta Garibaldi underground railway station (follow directions for Passante ferroviario), where you will find S lines trains.
Take then one of the S6 trains ending to Varese or one of the S5 trains ending to Novara (approx. one every 15 minutes). All S6 and S5 trains stop at Rho Fiera (about 15 minutes after departure from Milano Porta Garibaldi underground railway station); exit is at Porta Est (East gate).
Please note that if you wish to reach Rho Fiera by taking the underground you must buy ATM tickets to Rho Fiera; follow instructions on ticket vending machines in underground stations or ask ATM staff or the newsagent's for Rho Fiera tickets. Ticket price is € 2,50; one-way, return, special bundle tickets are available depending on the fair trade in Rho.
Details
Dal prossimo 11 dicembre 2011 saranno attivate 7 nuove corse per direzione tra l'aeroporto di Malpensa e Bellinzona gestite dalla società italo-svizzera TILO.
In pratica ogni due ore ci sarà un treno diretto dal Canton Ticino alla Svizzera, che costituitirà il prolungamento naturale della linea regionale S30 gestita da TILO che collega la Lombardia al Canton Ticino.
Il tempo di percorrenza da Bellinzona a Malpensa è di poco superiore alle due ore e sono previste tutte le fermate del servizio regionale della linea S30.
I treni saranno i FLIRT e il prezzo base di una corsa è di 22,20 franchi svizzeri.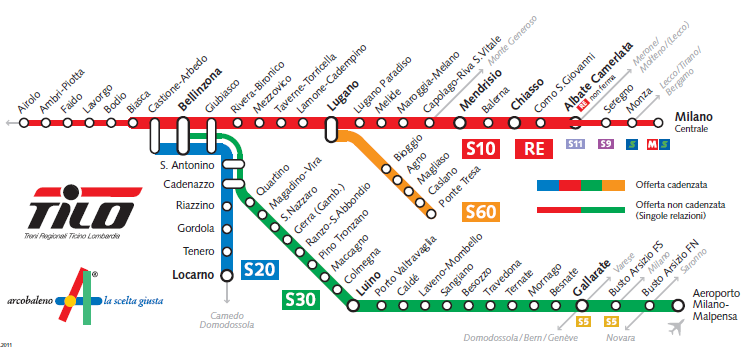 Details
Dal 13 dicembre 2010 il servizio "Malpensa Express" gestito da Trenitalia-LeNORD sarà attivato anche dalla stazione di Milano Centrale con 4 corse ogni ora (due per direzione).
I tempi di percorrenza saranno di 41 minuti per i treni con sola fermata a Milano Porta Garibaldi e di 47 minuti per i treni con fermate anche nelle stazioni di Saronno e Milano Bovisa.
Queste due nuove corse ogni ora si aggiungeranno a quelle dell'attuale servizio attivo da Milano Cadorna, con 4 treni ogni ora (due per direzione).
Dal prossimo 13 dicembre, quindi, il servizio da Milano città da e per l'aeroporto di Malpensa sarà sostanzialmente raddoppiato: ogni saranno quattro le corse per Malpensa (due da Milano Centrale e due da Milano Cadorna), quattro quelle in direzione opposta (due verso Milano Centrale, due verso Milano Cadorna).